Contributing to Debian is part of Freexian's mission. This article covers the latest achievements of Freexian and their collaborators. All of this is made possible by organizations subscribing to our Long Term Support contracts and consulting services.
Freexian Meetup, by Stefano Rivera, Utkarsh Gupta, et al.
During DebConf, Freexian organized a meetup for its collaborators and those interested in learning more about Freexian and its services. It was well received and many people interested in Freexian showed up.
Some developers who were interested in contributing to LTS came to get more details about joining the project. And some prospective customers came to get to know us and ask questions.
Sadly, the tragic loss of Abraham shook DebConf, both individually and structurally. The meetup got rescheduled to a small room without video coverage. With that, we still had a wholesome interaction and here's a quick picture from the meetup taken by Utkarsh (which is also why he's missing!).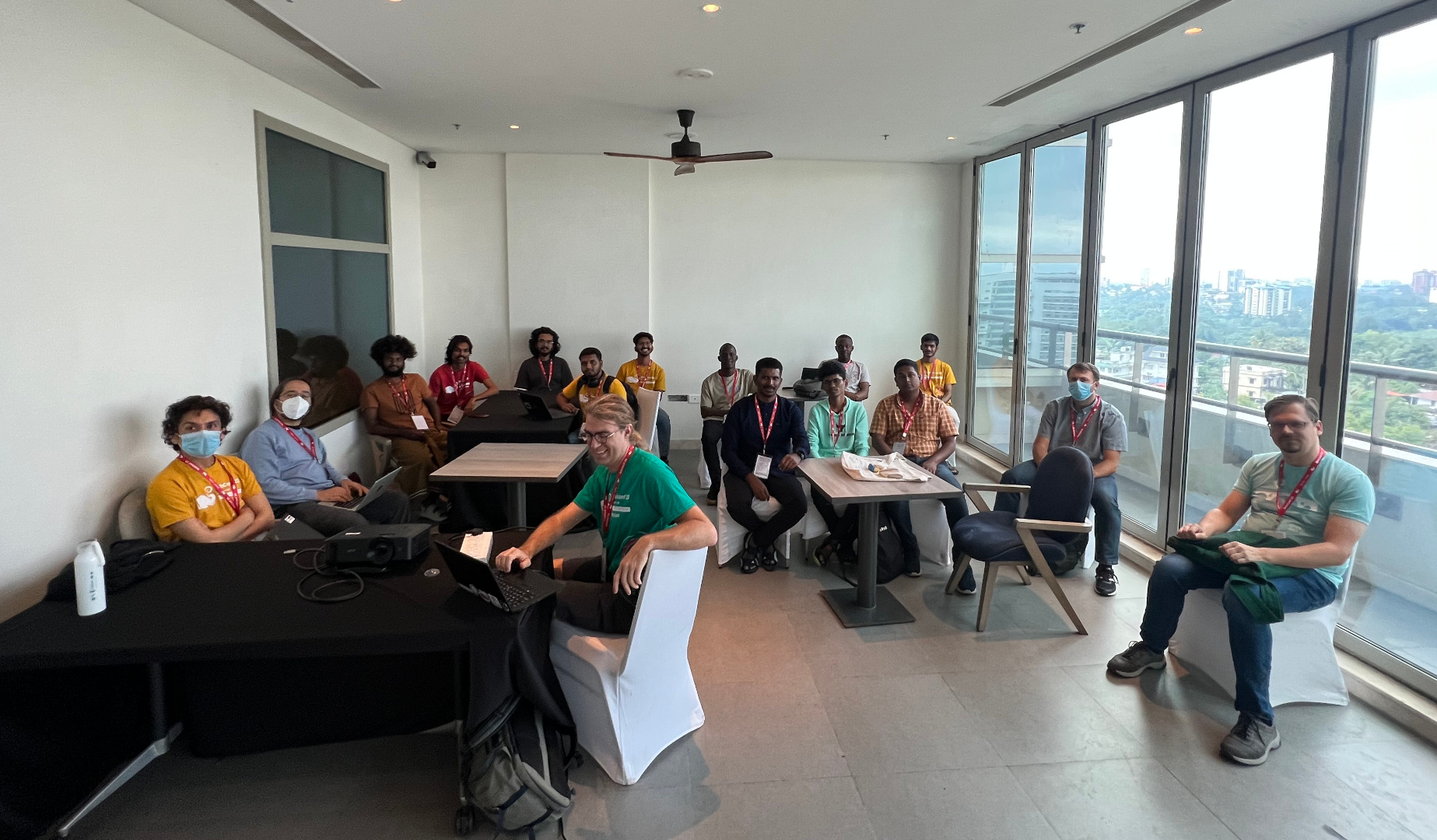 Debusine, by Raphaël Hertzog, et al.
Freexian has been investing into debusine for a while, but development speed is about to increase dramatically thanks to funding from SovereignTechFund.de. Raphaël laid out the 5 milestones of the funding contract, and filed the issues for the first milestone. Together with Enrico and Stefano, they established a workflow for the expanded team.
Among the first steps of this milestone, Enrico started to work on a developer-friendly description of debusine that we can use when we reach out to the many Debian contributors that we will have to interact with. And Raphaël started the design work of the autopkgtest and lintian tasks, i.e. what's the interface to schedule such tasks, what behavior and what associated options do we support?
At this point you might wonder what debusine is supposed to be… let us try to answer this: Debusine manages scheduling and distribution of Debian-related build and QA tasks to a network of worker machines. It also manages the resulting artifacts and provides the results in an easy to consume way.
We want to make it easy for Debian contributors to leverage all the great QA tools that Debian provides. We want to build the next generation of Debian's build infrastructure, one that will continue to reliably do what it already does, but that will also enable distribution-wide experiments, custom package repositories and custom workflows with advanced package reviews.
If this all sounds interesting to you, don't hesitate to watch the project on salsa.debian.org and to contribute.
lpr/lpd in Debian, by Thorsten Alteholz
During Debconf23, Till Kamppeter presented CPDB (Common Print Dialog Backend), a new way to handle print queues. After this talk it was discussed whether the old lpr/lpd based printing system could be abandoned in Debian or whether there is still demand for it.
So Thorsten asked on the debian-devel email list whether anybody uses it. Oddly enough, these old packages are still useful:
Within a small network it is easier to distribute a printcap file, than to properly configure cups clients.
One of the biggest manufacturers of WLAN router and DSL boxes only supports raw queues when attaching an USB printer to their hardware. Admittedly the CPDB still has problems with such raw queues.
The Pharos printing system at MIT is still lpd-based.
As a result, the lpr/lpd stuff is not yet ready to be abandoned and Thorsten will adopt the relevant packages (or rather move them under the umbrella of the debian-printing team). Though it is not planned to develop new features, those packages should at least have a maintainer. This month Thorsten adopted rlpr, an utility for lpd printing without using /etc/printcap. The next one he is working on is lprng, a lpr/lpd printer spooling system. If you know of any other package that is also needed and still maintained by the QA team, please tell Thorsten.
/usr-merge, by Helmut Grohne
Discussion about lifting the file move moratorium has been initiated with the CTTE and the release team. A formal lift is dependent on updating debootstrap in older suites though. A significant number of packages can automatically move their systemd unit files if dh_installsystemd and systemd.pc change their installation targets. Unfortunately, doing so makes some packages FTBFS and therefore patches have been filed. The analysis tool, dumat, has been enhanced to better understand which upgrade scenarios are considered supported to reduce false positive bug filings and gained a mode for local operation on a .changes file meant for inclusion in salsa-ci. The filing of bugs from dumat is still manual to improve the quality of reports.
Since September, the moratorium has been lifted.
Miscellaneous contributions
Raphaël updated Django's backport in bullseye-backports to match the latest security release that was published in bookworm. Tracker.debian.org is still using that backport.
Helmut Grohne sent 13 patches for cross build failures.
Helmut Grohne performed a maintenance upload of debvm enabling its use in autopkgtests.
Helmut Grohne wrote an API-compatible reimplementation of autopkgtest-build-qemu. It is powered by mmdebstrap, therefore unprivileged, EFI-only and will soon be included in mmdebstrap.
Santiago continued the work regarding how to make it easier to (automatically) test reverse dependencies. An example of the ongoing work was presented during the Salsa CI BoF at DebConf 23.
In fact, omniorb-dfsg test pipelines as the above were used for the omniorb-dfsg 4.3.0 transition, verifying how the reverse dependencies (tango, pytango and omnievents) were built and how their autopkgtest jobs run with the to-be-uploaded omniorb-dfsg new release.
Utkarsh and Stefano attended and helped run DebConf 23. Also continued winding up DebConf 22 accounting.
Anton Gladky did some science team uploads to fix RC bugs.